Australia Fire
Global
International
LGBTQIA
Social Issues
White Christians
White Terrorist
Conservative Thugs Harass Parents And Children Trying To Enjoy Drag Queen Story Hour.
Police were called to a library in Brisbane, Australia after protestors stormed a drag queen story event with aggressive chanting, reportedly distressing several young children.
Between 15 and 20 protestors from the University of Queensland's Liberal National Club interrupted the event at Brisbane Square Library, where two drag queens were reading stories to children.
"They entered the event chanting and scared the children. Some parents got them outside the room where they continued to chant loudly," the event organisers, Rainbow Families Queensland (RFQ), told the Daily Mail.
Video footage shows a drag queen confronting protestors as they repeatedly shout: "Drag queens are not for kids."
"You do not have permission to film me," one protestor orders the person behind the camera. There is no law in Australia that prohibits filming in a public place without asking for permission.
Fallout from the protests highlights China's reach into foreign universities through cultural programs
"I'm not wearing this to make a political statement, I want to show my face," says a masked man, from Hong Kong, now standing beneath the sandstone of the University of Queensland's great court.
"But even in Australia now we cannot be seen here at a protest. We are not out of sight of China's government. They have made that clear."
Last week, the Brisbane campus of the 110-year-old university became a flashpoint for the ongoing international backlash against the Chinese state, its influence on Hong Kong and its mass detention of its Muslim Uighur population.
A protest last Wednesday, organised by Hong Kong international students against the controversial extradition law, turned violent. Pro-Chinese government students interrupted the sit-in, tearing down banners, punching and shoving.
But it's the fallout from that protest, the quiet intimidation that followed – death threats, surveillance – that has many Hong Kong students, particularly those with family connections to mainland China, scared to show their faces.
Attendees, who believe they were identified by videos of the protest, were subsequently targeted online in doxxing attacks; in one case a Hong Kong student had his driver's licence, marriage certificate, student ID and other identifying information published on Chinese social media site Weibo.
On Wednesday this week, a second protest was held. Smaller, more focused on the university's links to China, and organised by Australian students, there was an undercurrent of fear among those who – unlike their domestic counterparts – were most vulnerable to the state's capacity for retaliation.
A masked woman, who did not give her name, addressed the crowd. She said she was from Hong Kong and feared for the safety of her family.
"All in all, we are just protesters forced by an authoritarian government to protect ourselves," she said, her voice trembling and then booming into the microphone.
"Some protestors whose identities are disclosed will be stopped by police at the Hong Kong airport. So why am I now hiding my identity? Because I don't want to be disappeared after showing up on this stage."
I'm going to draw the answer away from sex, attraction, and relationships, because while that is a component of "white worship" in Hong Kong as the OP mentioned it doesn't reveal the full picture. Yes, while there are plenty of local guys who boast about "sexual conquests" with western women, and plenty of local girls who can say the same about their white boyfriends and partners. That's definitely not all there is to race relations in Hong Kong, especially when it comes to the "鬼佬 (gwai lo- local slang term for white people, literally meaning: ghost man)".
Sadly, Hong Kong society is still extremely prejudiced when it comes to race, ethnicity, and nationality. And though I would argue that such a problem of "white worship" (I don't like the term) isn't purely exclusive to Hong Kong, as it extends to the rest of the developing world (or even developed world), be it in other parts of Asia, Africa, South America, or even the west itself, it remains a big problem in the city.
Students at the University of Queensland (UQ) have voted in a general meeting to oppose the Ramsay Centre for Western Civilisation's attempts to set up a degree on their campus. The meeting attracted almost 500 students, which also saw a successful vote for students to maintain control of the replacement Schonell Theatre if it is demolished, as has been proposed by the UQ Senate.
The two votes taken at last night's general meeting are the first since 1971, when students voted to go on strike for the duration of the Springboks rugby union tour during the period of South African apartheid.
The meeting was called in response to perceived indifference from university management. Students responded resoundingly, with reports of only eight students voting yes to the question "should UQ accept a deal with the Ramsay Centre for Western Civilisation?"
Addressing the crowd on the Ramsay Centre, key organiser and UQ student union councillor, Priya De, argued "these people are not academics, they are politicians."
UQ Liberals apparently planned to shut down the meeting by invoking a section of the regulations stipulating that student general meetings must cease if 50 students petition for a referendum, however this plan ultimately failed.
Amongst those who spoke in favour of the Centre was Kurt Tucker, a former President of the UQ Liberal National Club who resigned in 2017 after admitting that he would have joined the Nazi party had he lived in 1930s Germany.
A Liberal National Party official has claimed he would have been a member of Adolf Hitler's Nazi Party if he lived in the 1930s.
Kurt Tucker, the president of the University of Queensland's Liberal National Club, and an undergraduate representative on the university's academic board, said he would have joined the party, which oversaw the genocide of 6 million Jews.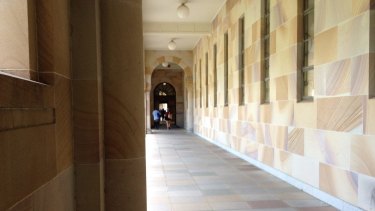 "I openly accept I would be a Nazi Party member if this was 30's Germany, despite obviously opposing a lot of their core ideology," Mr Tucker wrote on a UQ students Facebook page.
"I'm political, and to succeed in politics, public service, military, or even industry you had to be a NSDAP [National Socialist German Workers' Party] member.
"I also believe 90 per cent of ALP and LNP members would be the same."
Mr Tucker is also listed online as the Young Nationals federal campaign officer.
In a statement, Mr Tucker said after reflection, he realised his comments were "totally wrong" and said he had no Nazi, Fascist or neo-Nazi sympathies.
"I find the Nazi Party to be totally morally abhorrent and I would never willingly engage with them," Mr Tucker said.
"I apologise unreservedly for my comments and any offence they may have caused to victims of the evil perpetrated by Nazis and their sympathisers, as well as those whose family, like mine, fought against their regime in the Second World War."
Updated 
The Liberal National Party (LNP) has suspended three members of its Young LNP over a video posted online showing one of its branch leaders smirking at a racist slur.
Key points:
The video has been deleted from the Young LNP Facebook page
The LNP president's committee has suspended the three young men involved
State Labor Environment Minister Leanne Enoch called the incident "disturbing"
The video was published on the Gold Coast Young LNP Facebook page on Monday night and has since been deleted.
It has drawn widespread criticism including scathing comments from senior members of the Queensland Government.
In the snippet, Gold Coast Young LNP chairman Barclay McGain begins by interviewing schoolies in the Surfers Paradise mall about a range of issues including what they think of the Prime Minister and the national anthem.
"Australian national flag and national anthem, keep it or ditch it?," he asks in the video.
He can then be seen laughing after one teenager's comments about Indigenous cultures.
"Personally, I'm fed up with having all these sport stars stand out on our stages and not sing the national anthem," the teenager said.
"They're putting our Australian jumper on, they're going to sing the anthem.