LGBTQIA
Sex Workers Rights
Housing For The Most Marginalized
Just months after Tennessee Governor Bill Lee signed a new bill prohibiting gay couples from adopting, the state is getting a new foster care organization exclusively serving LGBTQ+ homeless youth.
True You TN is in the beginning stages of opening, having just acquired their 501(c)3 and preparing to fundraise. The group, founded by Executive Director Stephanie Lowe, will build a group home for LGBTQ+ teens and youth and recently moved into their first office space.
True You will be the first group home to serve exclusively LGBTQ+ youth in the state, working to help the nearly 40 percent of homeless youth who identify as queer. Lowe said her own past drove her to create the organization, and although she has reconciled with her family, her coming out at 30 years old didn't go as planned.
"It crushed me when my family turned their backs on me, so I can't imagine that trauma as a youth," Lowe said. "But it gets better and being true to yourself is necessary, even in the face of hatred."
Lowe said True You is in a unique position as a state-licensed organization that won't be contracted by the government. Lowe said the Family First Prevention Services Act signed into law by President Trump in 2018 severely limits government spending on group homes. True You will be a self-funded organization, meaning the group is free to focus on strictly LGBTQ+ youth and not subject to as many regulations on who they can serve.
The freedom is a double-edged sword, and Lowe said fundraising will be critical. While spending the last year creating policy and guidelines designed to ensure long-term success, True You is now focused on raising money. Their first major fundraiser, scheduled in April, was cancelled due to COVID-19, but will launch "any day" according to Lowe. True You was also designated as an official PayPal charity.
Lowe said True You's mission is incredibly important considering how homelessness impacts LGBTQ+ youth. Lowe said Tennessee is 4,000 beds short of being able to accomodate all homeless youth in the state, and that 78 percent of LGBTQ youth report being further abused after arrival into the system.
"Once a teen lands on the streets, statistically, we have 72 hours before they are willing
to participate in 'survival sex' to meet basic needs such as food or housing," Lowe said. "In fact, 20 percent of all homeless youth interviewed were victims of human trafficking."
In addition, these youth are often not accepted at local shelters, who are sometimes operated by religious organizations that don't welcome the queer community. Lowe said some will even put out signs telling LGBTQ+ people not to enter. Because many foster programs in the state also refuse to help LGBTQ+ youth, Lowe said True You will do outreach both to youth on the streets and to the state, to prevent kids going to discriminatory foster homes.
AdoptUsKids.org states that there are currently around 7,500 children in foster care and that 1,000 of them age out of foster care every year without ever finding a permanent home. In their most recent annual report for the fiscal year 2017-2018, the Tennessee Department of Child Services reported there were 2,921 foster care families or homes with at least one vacancy, and that while 69 percent of kids spend 0 to 12 months in state custody for various purposes, 23 percent spend 24 to 36 months in state custody.
  It crushed me when my family turned their backs on me, so I can't imagine that trauma as a youth. But it gets better and being true to yourself is necessary, even in the face of hatred.   – Stephanie Lowe
Lowe said that while some foster parents take on foster kids for the money, as they receive a monthly check for each child in their home, True You will be a group home, and will not work with foster parents or provide compensation to them.
"Since our entire purpose is to allow the youth in our care to be supported for who they are, their safety is our utmost priority," Lowe said. "There are many people who foster for compensation and not for the best interest of the youth. You can't not compensate the foster parents; it is expensive to bring youth into your home. But that needs to be better monitored."
Devin Deltori, a floral designer and wedding planner, understands the negative effect of discrimination and a rough foster care system all too well. Deltori said he entered the foster care system in Tennessee voluntarily after losing both his parents before turning 11. His mother was killed in a car crash when he was nine years old, and his father died shortly after from a heart attack. Deltori said his stepmother and living situation were so unstable he approached the Sumner County juvenile court system himself to ask for help.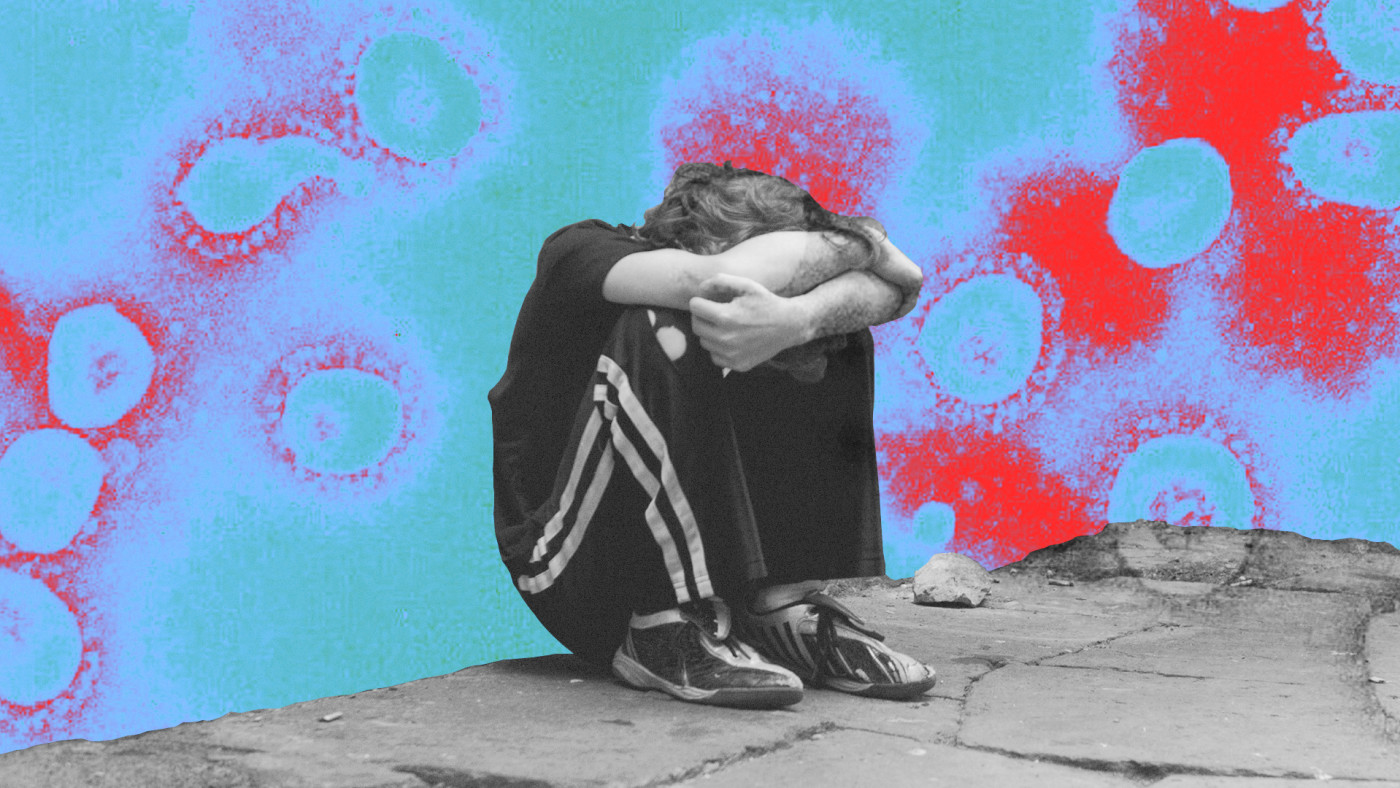 Life hasn't been easy for 18-year-old Lereto Reyes. A native of Los Angeles, they recently decided to leave their home this past April, after years of mental and physical abuse.
Reyes is now staying at an emergency shelter in Downtown L.A. in a single room. While trying to get back on their feet, Reyes has something else to be concerned about beyond the violence they were subjected to in their previous home: COVID-19 and the ways it is further marginalizing the LGBTQ+ community.
"I just feel really alone in the process," Reyes says. "I'm learning that there are limited services for people like me. I feel like I am back where I was three years ago."
Reyes deals with severe depression and anxiety, and worries that now, because of COVID-19, it might be harder to get the care and assistance that they may need should they have a panic attack or, worse, be asked to leave the shelter because of their mental health problems.
LGBTQ+ youth and young adults like Reyes remind us how vulnerable being queer in this pandemic can be. Amid the hardships that come with COVID-19, networks and services that provide assistance to LGBTQ+ youth have shuttered, leaving many to wonder what life will be like once the pandemic is over.
"The fear of COVID-19 for homeless LGBTQ youth is strong," says Heidi Mayer, executive director of the Youth Hope Foundation in Redlands, California. "LGBTQ+ youth are under so much stress. Not only are they having to navigate the fear of now catching COVID-19, but now they are concerned about being accepted for who they are if they do try to get help. They are wondering, am I really going to be OK?"
Prior to COVID-19, the issue around homeless LGBTQ+ youth was one of growing concern.
While it was reported that only 7% of youth in the U.S. openly identify as LGBTQ+, up to 40% of those who do are homeless. Other statistics show that LGBTQ+ people have a 2.2-time greater risk of being homeless and face stigma and discrimination when they try to seek out assistance. As Mayer notes, COVID-19 now amplifies the issue of safety for LGBTQ+ individuals, specifically those who have major health problems.
"Not only are they having to navigate the fear of now catching COVID-19, but now they are concerned about being accepted for who they are if they do try to get help." – Heidi Mayer
For Jasper Fidel, 22, and D.J. Edwards, 20, both former homeless LGBTQ+ youth, trying to stay safe during this pandemic as they try to meet their health needs has been challenging. "I have a compromised immune system, so I haven't been able to really go anywhere or do anything," Fidel says, noting that they and Edwards were both homeless prior to the pandemic. "Yes, now we have a place, but with everything shutting down, I haven't been able to work and finding services to help us has been a struggle."
Dominique Morgan, executive director of Black and Pink in Omaha, says that the issues homeless LGBTQ+ people face are greater now because of COVID-19 and how so many providers weren't prepared for the pandemic. "I can't say that we've seen a plan that feels like it's based in prevention," Morgan says. "The problem is that no one had a plan when there wasn't a pandemic. The work has always been reactive, and the funding for homeless LGBTQ youth has always been status quo."
Though some believe that the issues and needs around COVID-19 are temporary, Reyes feels that there needs to be more intention around how we think and talk about it. "It doesn't matter if it's seasonal or not, " Reyes says. "Regardless of the weather, the situation for LGBTQ+ people hasn't changed. They are still going to be homeless; they are still going to need food. They are going to be emotionally and physically impacted and at greater risk for catching COVID-19."